I've traveled to Fuji 4 times, but they were day trips. This time was a special opportunity to have a 2 days 1 night stay at
Hoshinoya Fuji
. To reach Hoshinoya Fuji from Tokyo, my friend and I took the express highway bus from Shinjuku Station to Kawaguchiko Station. Upon arriving at Kawaguchiko Station, we took the red line bus and got down at the 20th stop. From there, Hoshinoya Fuji is just a 5 min walk !
This is
Hoshinoya Fuji
's reception desk. We were greeted warmly by the concierges. They explained us the activities we're going to have during our stay and asked us to choose one of the backpacks on the walls! Those bags are filled with 'glamping equipments' like the resort's map, foldable blanket, bottle, telescope, as well as some souvenirs we can take home!
From the reception desk, we had to hop on the resort's jeep. The car would take us to the front desk and the area where all the cabins are located.
Hoshinoya Fuji
offers 4 types of guest room (with a total of 40 rooms) with average 40-48m
² area. Every room has a different view and different feeling, but the same majestic view of Mt.Fuji.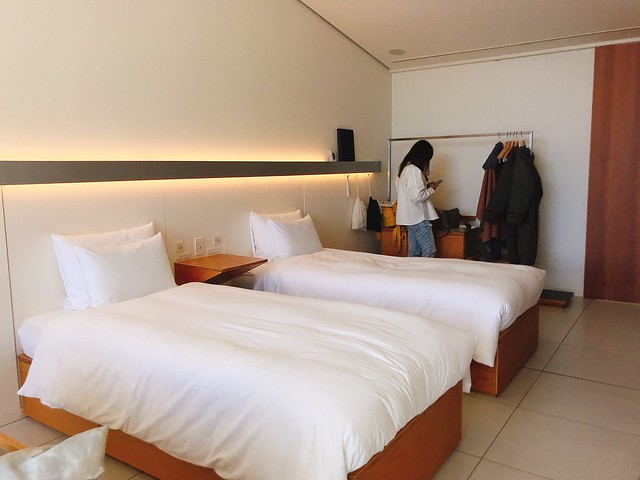 The moment we entered our cabin, we were met with a majestic view of beautiful Lake Kawaguchi. As the cabin's interior is minimally decorated, the view essentially becomes a part of the room. The balcony also features a space where we can lit fire, enticing us to spend our time outdoors.


The bathroom and the bedroom have great quality and complete amenities for guests. They even provide pyjamas & winter coats!

The idea of Glamping that Hoshinoya Fuji offers was born after the CEO, Yoshiharu Hoshino saw that very few people go camping in Japan. This is because with camping, there's always a tradeoff, You get to spend time out in the nature, enjoy barbecue, and sit around a warm fire at night with good wine and music. But in between, there are the not-so-fun aspects like cleaning up after a meal, bugs in tents, inconvenient bathroom facilities, etc. So he came up with resolutions by expand the best parts of camping and eliminate all of the least attractive aspects.
Hoshinoya Fuji offers a list of activities that we can enjoy throughout our stay. We can relax, lit bonfire & eat marshmallow, nap in a hammock, join a Pizza Workshop, and watch movies at the Cloud Terrace.

I learned how to chop woods too!


Grill Dining is a spacious dining hall, surrounded by red pines, and offers dinner courses that include an hors d'oeuvre plate, soup,a main dish, and desert. The Chef grill selected foods for our main dish at a grilling station in the center.
Hors d'ouvre plate had fresh cuts of fish, meat, fresh veggies, and a selection of dipping sauces.
We also got super delicious warm bread that was soft inside yet crispy outside. The pate we smeared on them was wonderful as well.
Our main course was grilled domestic venison loin and beef loin. They were juicy and tender! We paired them with 2 different sauces, Yuzu Mustard and Beef Mustard.
Peach and Grape Sorbet
The next morning, we joined "Early Morning Canoeing" at 7am. It was really peaceful as there were only Hoshinoya Fuji's guests around the lake. To join this activity, guests have to reserve by 6pm the day before. The price for adults & children over 5 y.o is 3500yen excludes tax & 1500yen for children aged 2 to 5.
Upon coming back to our cabin, the staffs prepared our Morning Box (Price:2800yen/box). The box was filled with nutritious and delicious breakfast meals like omelette, bacon and sausages, cream soup, salad, kefir yogurt, and dutch oven baked bread. We savoured every bit of it!
Overall, the short stay we had at Hoshinoya Fuji was very memorable and enjoyable. The resort, the views, and attentive staffs provided us great comfort and leisure we had never expected before. I really recommend you to stay here if you're planning to explore Mt.Fuji & Lake Kawaguchi area.
Rate of the rooms starts from 45.000 yen/night.
To reserve
, please check
http://hoshinoya.com/fuji
or call +81-50-3786-1144.