Hi! I've just got the chance to update my blog since I was really busy last weekend. Straight from school, I went home and then prepared myself for a photoshoot at Saturday noon, then went to my friend's birthday dinner in the evening.
On Sunday, I had some rest in the morning by doing nothing but chatting and laying on the bed with my friend who stayed over at my house because my parents were away... Then at 12 we went out to have lunch (thank God I'm able to drive now and I also already have my own driving license!) . At 3 we went out again to have a photoshoot for this outfit, after the photoshoot's done, I drove my friend & my photographer home ;)
For this outfit, I've been wanting for a sleeveless vest for a quite long time. Then I was so happy to get one from
Little Muses
. I decided to mix it with a lace skirt that I haven't worn for such a looonggg time!
red glitter shades from Kate Spade (c/o Shopbop.com)
Red sleveless vest c/o @Little_Muses
Stripes bustier c/o @ladiesshopsheneeds
lace skirt from f21
Wedges from Zara
Slingbag from Herspot
These photos were taken at the old city hall in Tegal and we suddenly found this pretty tree in front of the police station.. lol. I should've worn pink if I knew sooner :(.
This week is gonna be full of daily exam. Tomorrow I'll have math, english on friday, and chinese on saturday. Headache has already appeared even before all of it start. T_T. So I guess I gotta sleep after posting this ...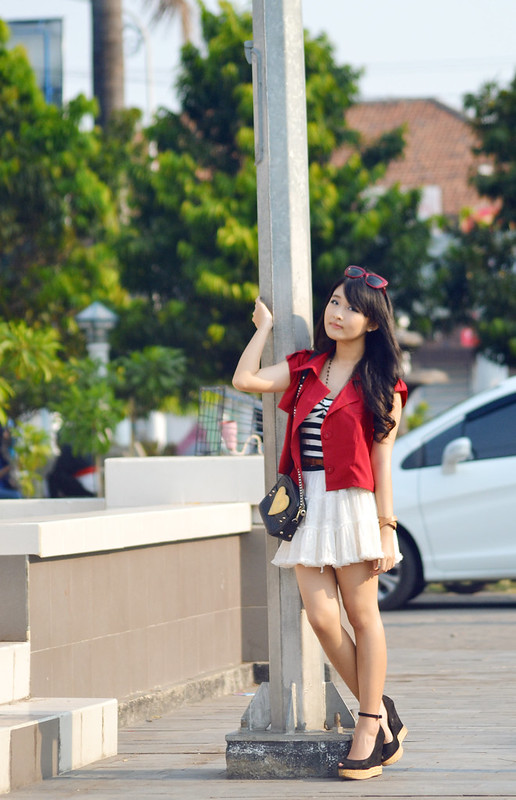 Thanks to
Agatha Calysta
for the photos, and Sarah for accompanying meee :*
p.s: anyone knows how to make my cheeks less chubbier (no bronzer / photoshop, I mean a real way, or a diet for cheeks?) hahaha T.T. I'm feeling so chubbyy lately.